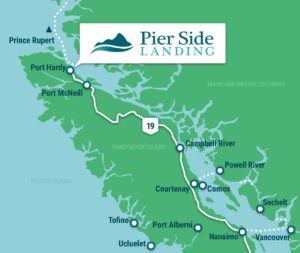 From Vancouver by Car
From Vancouver you can cross to Nanaimo via BC Ferries Horseshoe Bay-Departure Bay crossing or alternatively the Tsawwassen-Duke Point crossing. From Nanaimo, take Highway 19 north to Port Hardy.
From Vancouver by Plane
Fly Vancouver direct to Port Hardy in just over an hour via Pacific Coastal Airlines.
From Prince Rupert
From Prince Rupert you can get to Port Hardy via BC Ferries historic Inside Passage.
Address
8600 Granville Street, Port Hardy, BC